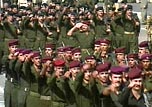 In an effort to suppress DNR wardens and science teachers, Scott Walker has created a new Republican Guard for his administration. These are elite troops reporting directly to Walker. Since Walker is planning to enact systemic, widespread, and extremely grave violations of human rights, he knows he needs the protection of the Republican Guard from unruly librarians and DOT workers.
Walker plans on allowing full political participation for only the wealthiest 8%, and busting the labor unions is the first step in this measure. While the federal government still protects citizens' rights to assemble legally, Walker prefers allowing assembly only to express support for the government, and any slowdowns or absences to protest will be met with the firing of government employees.
The Republican Guard plans on creating check points in order to prevent ordinary citizens from traveling abroad without permission of Governor Walker, and females will need the escort of a male relative. Once order is established after the initial destruction of state unions, Walker plans to enact an Anfal Campaign against all labor unions in the state in order to lower the standard of living and create a business environment that is lucrative for the top 8%.
While workers in the state may be in store for harsh discipline if they do not work hard for less money, government supporters and family members will be immune from punishment for any such crimes. Reporters and government informants will be dealt with severely, though most reporters already make so little that they report their envy of union wages and benefits.
You will be able to distinguish the Republican Guard at checkpoints and in bodyguard detail by their red or Maroon berets and the red triangles worn on their sleeves. The new state motto will also be changed to, "With our blood, with our souls, we sacrifice for you, Scott Walker."